Home Page
Welcome to the BHS Cornwall Access and Bridleways Web Site. The Site is provided to help you to enjoy your off road riding along the bridleways and paths in Cornwall (on horse and on cycle).

The availability of bridleways and off road riding varies tremendously over the county.
Ordnance Survey Maps show all definitive bridleways and byways (and footpaths).However there are also many other ridden tracks and paths shown. However for many there is nothing to show their legal status. Many of these are ridden and there may be unrecorded bridleway rights on many of these including on some definite footpaths.
See our Online Riding Maps. You can also report problems to directly from the online maps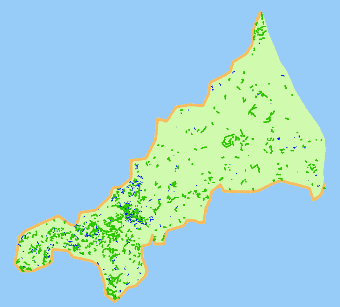 Overgrown or Blocked Bridleways
Many of our bridleways are overgrown. Cornwall Council or parishes are responsible for clearing the surface. BUT responsibility for side and top growth (which is the greatest problem to riders) is strictly the responsibilty of the land landowner.
Please report either via our online riding maps and/or direct to Cornwall Council. BUT PLEASE do also make sure we are aware of your reports as we can then try and ensure action is taken.
Bridleway Survey
With the help of riders we want to get a better picture of all bridleways in the county. Please do look at our online riding maps for where you ride and please update the information for brdileways and other paths if the information we hold is not correct.
Gates on Bridleways
Ill maintained and unsuitable gates are a big issue with riders and are a reason why riders avoid some bridleways.
Please tell us about the gates you encounter on the bridleways you ride you may report via our online riding maps
Click Here for more information about gates.
Guidance and Advice

A full range of Free Leaflets and advice on many aspects of Access and Rights of Way are available for download from the British Horse Society web site:
View and DownLoad Free Leaflets
Taking Horses into the Sea
The sea can be a dangerous place for both humans and animals. In 2013 on Marazion beach a horse swam out to sea and drowned after parting company with its rider.
A horse's natural instinct and behaviour will often be to swim in a straight line - which may be out to sea. Horses find it very difficult to turn in water and don't have same geographical awareness that we do, which can, as we have seen, lead to devastating consequences.

When riding on the beach riders need to take every precaution. Always ride in company and ensure you stay parallel to the shoreline, not heading out to sea.

For Details of the British Horse Society Access and Bridleways Officers for Cornwall please see
Contacts
We work voluntarily on your behalf to help preserve the riding we do have and to improve the bridleway and ridden paths network.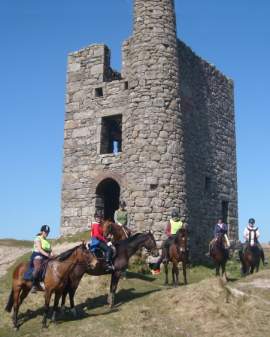 Members of West Penwith Bridleways Association by Greenbarrow Mine on the Penwith Moors. Few bridleways but we always have enjoyed free access
Commons
and their relevance to Equine Access
Project 2026 - British Horse Society
This is a national web based project with the aim of identifying routes which potentially are unrecorded Rights of Way and to record progress towards submitting Definitive Map Modification Order Applications. There is a separate sub-project for each County or Local Highways Authority area.
Please see Project 2026 Cornwall
The Aim of our volunteer led project is to meet the wishes of the landowners and the terms of the associated legislation in ensuring that all meaningful Unrecorded Rights of Way as far as possible have been researched, and necessary steps taken to ensure any associated rights are not unnecessarily extinguished at that date.
Any volunteer can join the project and contribute directly with giving any information about "lost" or unrecorded routes.
We welcome walkers, riders, historians, cyclists etc to help.